The holidays can be busy, stressful and can negatively affect overall health. With that said, it's important to remember that you don't want to take a holiday from your health. Instead, focusing on your health should be like brushing your teeth. It's part of your lifestyle and you do it everyday because it's good for you, even during the holiday season!
Creating a challenge of some sort can provide you a positive focus that can keep your health a priority during the holidays so that you can launch into 2023 feeling your best. 
Fitness Challenge Ideas
Bingo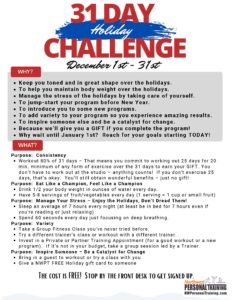 Create a bingo card with an activity or fitness challenge in each box. Everyday choose something from the Bingo card and have fun while getting fit! Do it with your family and/or friends and see who can complete their bingo card first. 
Count the minutes
Decide that you will be active X minutes per day throughout the month and then keep track. For example, decide that you will reach 600 minutes of exercise in December and count down your progress.
Reach the distance
Set a mileage goal that you will strive to accomplish throughout December for walking, biking or running. Set the goal to be challenging but realistic. For example, if you know you could easily hit 2 miles per day but 4 miles per day would be very challenging, then set the goal at 3 miles per day or 93 miles for the month.
December streak
A fun challenge is to decide to do something everyday for an extended period of time. You might try a walking, running, yoga, strength, or planking streak where you do the activity everyday throughout the month of December. 
Daily veggies
Instead of setting the goal to not eat any holiday treats, focus on eating a salad and/or veggie stir fry every day. With this focus, you'll be less likely to indulge. 
Hydrate
You may not be ready to give up alcohol or other beverages, but if you focus on drinking more water, you'll be less likely to indulge in other drinks. Set the goal of drinking half your body weight in ounces of water everyday. Track your progress.
Dry December
The thought of no alcohol over the holidays may sound terrible to some of you but may be exactly what others need. You could set a goal of no alcohol all month or no alcohol during the week. It's your challenge so you set the rules.
Breathe
We all could benefit from deep breathing and meditation. Set a goal to do 5 minutes each morning or evening focusing on deep breathing. Consider downloading the 'Calm' app and doing a short daily meditation throughout December 
31 Day Fitness Challenge
We are offering a FREE 31-day Fitness Challenge to assure we all focus on our health during the busy holiday season. We wanted to provide our community with something fun and positive to focus on in December that will ultimately improve their health, energy and reduce overall stress. 
Here is what you get:
31 days of motivation, exercise and nutrition tips 

31-day Fitness Tracker to track your progress

FREE Virtual workouts that will stream live on the Northwest Personal Training Facebook page every weekday Monday through Friday at 7:30am. There will be a variety of classes from Muscle Conditioning, Kickboxing, Core, Yoga and more. If you can't participate live, you can stream the workouts on demand anytime, anywhere. No excuses!

Like the page at https://www.facebook.com/nwpersonaltraining to access all free workouts and tips
To receive the tracker, you can email info@nwpersonaltrainining.com, call 360.574.7292 or download the 3-page document at this link.
Yours in health & fitness,
Sherri McMillan
---