Our community hosted the first Live Multisport event this past weekend in over a year and half since the pandemic began. It was a safe return to racing and 600 athletes completed a variety of running distances and a Duathlon (Run/Bike/Run).
Now that racing is live again, many are starting to set goals to challenge themselves physically and mentally. A Triathlon is the epitome of a physical challenge testing your endurance and ability to complete three different disciplines.
There are 3 Triathlon events in Southwest Washington scheduled for August including the Lucky Triathlon in Woodland and the Columbia River and Girlfriends Triathlon at Frechman's Bar.
---
Don't forget to sign up under "Weekly Fitness Tips" to automatically receive my latest blog post in your inbox!
---
If you are ready to conquer the triple challenge, here's a list of 10 things you should know:
You don't have to break the bank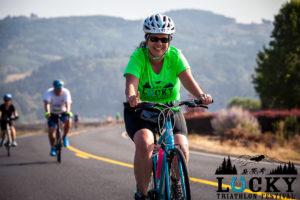 You don't need an expensive wet-suit or a carbon fiber road bike. Many people have completed a triathlon on a mountain bike or their old road bike that has been collecting dust in the garage. Just make sure you get your bike serviced to assure everything is safe and functioning. Many have borrowed all the supplies and equipment they need from a friend so don't feel pressured to buy everything new for your first triathlon. You could easily get away with swim goggles and swim suit, whatever bike and helmet you have access to and a pair of running shoes. Bottom line – make sure you practice with whatever you will be using on your actual race day.
Join a triathlon training club
Locally, you can train with groups such as TRIumph Triathlon Club or Dialed Triathlon. You will learn so much and have access to so many resources when you find your tribe to train with. Plus, it makes training so much more enjoyable. Bob Hoffman, local Triathlete and Trainer is starting a 16 Week Triathlon Training Program to prepare athletes for an August triathlon.
Pick your race
There is nothing like signing up for a triathlon to solidify your commitment to getting to the finish line. When most people think of Triathlon, they think of Ironman but an Ironman distance event should not be your first Triathlon. The distances are ultra-long and challenging. For your first event, choose a course that is shorter and flat. A sprint distance is ideal which typically includes a ½ mile swim, a 12 mile bike and a 5K run. Some events even host a 'My 1st Triathlon" distance that offers a shorter, ¼ mile swim since the open water swimming is the area where most rookies are a bit nervous.
Choose local
Race-cations are fun, but for your first race, make it easy on yourself and select an event that is close to home which can help reduce the hassle of travel and race-day stress. It can also help because you can practice on the exact course you'll be racing on which will increase your confidence. All three of the local events are ideal courses for first time triathletes since they are flat, easier and offer shorter distances. The events at Frenchman's Bar are perfectly set up for a timid swimmer because the swim course is point to point, hugs the shore and travels with a light current in the Columbia River. Participants get a little push as they swim. In addition, if swimmers get tired, they can wade to the shore and touch down and take a break if needed. Register for a local triathlon.
Practice Open Water Swimming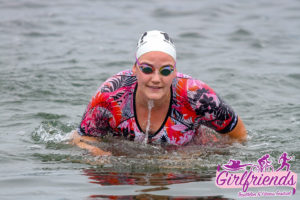 Once you feel comfortable in the pool, you'll want to make sure you practice swimming outdoors so you can get accustomed to swimming straight without having lines at the bottom of the pool to guide you. Lakes and rivers don't provide ledges where you can stop and take a break. You'll need to learn to 'sight' and use landmarks every few strokes to pop your head out of the water to assure you're on track. If you don't develop the skill to 'sight' and swim straight, you can end up swimming a much greater distance than you need to as you zig zag through the course. Be sure you always swim outdoors with a buddy and safety support – this is where joining a triathlon club can be invaluable. It's important to understand that any stroke counts in a triathlon so you could breast stroke, side stroke and even doggie paddle your way to the finish of the swim course.
Practice brick workouts
Running after you ride is challenging and you'll want to train your body to get accustomed to it. A brick workout is a training session that has you cycling and then immediately, without a break, heading out to run. It's called a 'brick' workout because your legs feel like bricks initially, but with practice, you'll get better and you'll 'find your running legs' quicker.
Practice the transition
Many rookies fail to understand that the transition time between the three disciplines counts towards your overall time in triathlon. Elite level triathletes have the transition between swim and bike (deemed T1) and bike and run (T2) down to a science. They know exactly what they need for the next discipline and have it placed exactly where they need it to assure a quick transition. It's important to practice what you'll need and how to take some items off while you put other items on to assure you're not wasting unnecessary time. Practice in a training outfit that you can wear throughout the entire race to minimize time changing in and out of different types of clothing. However, in the beginning, don't put too much pressure on yourself. Take as much time as you need and enjoy the experience.
Ease into training
Initially, just focus on slowly increasing your endurance to complete the required distance for each discipline. You might swim twice per bike, bike twice per week and run twice per week with one of those workouts including a Brick workout. You can easily finish a triathlon on training less than 5 hours per week. Even as you progress your volume of training, the 80:20 rule is a great approach. It includes 80% of your training at a light or moderate intensity and only 20% of your training at a high intensity level where you focus on your speed.
Read your pre-race instructions
The race director will provide you pre-race instructions and videos. Read and watch everything. Study the courses. Fully understand all the rules and nuances of your specific race. You don't want any surprises. If confused or if you need clarification, reach out to the race director and ask questions. They will be happy to support you and assure you feel confident going into your first race.
Have fun
Remember to smile, enjoy the experience and feel an incredible sense of accomplishment as you cross the finish line.
Yours in health & fitness,
Sherri McMillan
---
Choose the 6 week package that works best for you! In person or virtual.
All programs offer 6 weeks of focused training and 1 hour sessions.
Don't wait to get started, now IS the time!
You can call us for more information or to sign up 360-574-7292!
---